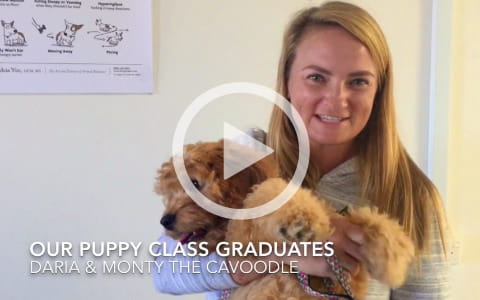 Mindful Puppy School
Education for modern puppy parents.
Researching and planning for the arrival of your new puppy is such a fun and exciting experience…
However, regardless of your preparations… As soon as your cute furry one arrives, you will be struck with a ton of questions.
You'll quickly discover that you do need professional support from day one, in order to avoid common mistakes and prevent problem behaviours.
Your puppy will grow very quickly and needs to learn a lot in a very short space of time, if he or she is to grow into a happy and confident, well-behaved dog.
The best way to set your puppy up for success is to enrol into a reputable puppy school, with a well-structured puppy training program, provided by a Certified Puppy Class Instructor — AND — which provides support for you and your puppy training needs up to adulthood. Start any week with open enrolment.
Our Mindful Puppy School includes:
Extensive puppy parenting advice, training resources and support options. Provided as part of our in-person puppy classes or as a self-paced course.
Puppy Parenting Classes Pricing
Mindful Puppy School (Indoors)
Open enrolment - start any week
Sundays at 12:00, 1:00, or 2:00 pm
For puppies aged 10 - 16 weeks
Safe & Sensible Puppy Socialisation
All puppies: minimum 1st vaccination (C3)
Digital certificate upon Graduation
Access for 1 year to our:
- New Puppy Schedule Planner
- New Puppy Parenting Course
- Weekly Live Q & A Support
- Online Community Support

Lower cost-of-living pricing (until 31/03/2024)
Enrol Now
More Info
Puppy Parenting Q & A
Video Consultation (30 min.)
Get professional answers on the why and how, in order to resolve your puppy's specific behaviour challenges.
Lower cost-of-living pricing (until 31/03/2024)
Book Now
Private Coaching Consultation
Video Consultation (60 min.)
Digital Training Downloads
Access for 1 year to our:
- Consultation Recording
- Weekly Live Q & A Support
- Online Community Support

Access for 1 year to video lessons relevant to your consultation, e.g.:
- toilet training
- puppy biting
- puppy socialisation
- separation anxiety
- come when called
- loose leash walking
- jumping
- barking

Lower cost-of-living pricing (until 31/03/2024)
Book Now
More Info
In-Person
In-Person Puppy Parenting Classes
For puppies aged between 10 and 16 weeks.
Open Enrolment - Start Any Week!
Our open enrolment in-person program enables you and your puppy to meet new people and their puppies over 4 weeks. This greatly benefits your puppy's socialisation, with more opportunities to make sense of, interact with, and learn how to self-regulate their emotions, when faced with new experiences. Open enrolment also provides you with the flexibility to complete your 4-week program if you have missed a week, because you can simply join class the following week, without having missed essential, positive socialisation exposure.
Select your Start Date below to book your puppy's spot using our secure online enrolment form.

Prerequisites
Your puppy is between 10 and 16 weeks old.
Your puppy needs to be up-to-date with their vaccinations , and the minimum requirement for your puppy to be able to attend in-person classes, is that your puppy has at least had their first vaccination (C3).
Please bring a copy of your puppy's vaccination certificate at the start of your first class (this can be a screenshot on your phone). On your first visit, your puppy's vaccination certificate must be sighted by your instructor before you can enter the classroom.
When & Where
Our 4-week in-person puppy parenting classes are run in Crows Nest (Sydney's Lower North Shore) on Sundays only.
Class Schedule:
12:00 pm on Sundays
1:00 pm on Sundays
2:00 pm on Sundays
Duration per class session: 50 minutes
Location: Paw Republic: Entrance at back in laneway (garage) of 47 Alexander Street, Crows Nest, NSW 2065 (directions).
Upon enrolment, you will receive a confirmation email with all the necessary details for your class. Enrol now!
Open enrolment, start any week.
Don't delay. Enrol today!
Our in-person puppy parenting classes can book out weeks in advance.
What To Bring
A copy of your puppy's
VACCINATION CERTIFICATE. (Present prior to entering the classroom, or email us a copy in advance.)
For training: always use a regular, flat buckle collar; and a regular, flat fabric leash (120 - 180 cm).
Your puppy's favourite soft treats (pinkie nail size pieces), in a treat pouch.
Your puppy's favourite chew and tug toys.
Your puppy's water bowl.
A blanket, mat or towel for puppy to settle on.
Puppy has had a toilet break.
Your puppy's doggy poo bags.
4-week Puppy Parenting Classes - Pupp Priorities Program
Puppy School Curriculum: Week-by-Week Overview
Please note that weekly activities may vary, depending on group dynamics or urgent needs (e.g. a fearful puppy might require more individual attention during class).
HOMEWORK: Pre-Class Prep - Self-Study Video Lessons
Course: "Puppy Parenting Essentials"
Before the start of your in-person classes, you will receive information on how to access your extensive video library. These video lessons are an important part of your Mindful Puppy School program.
You are expected to use these videos to practise puppy training at home, in order to complete this course and earn your Graduate perks.
During your puppy's first weeks at home, keep their world small. Giving puppy too much freedom too soon is the number 1 mistake new puppy parents make.
Use confinement appropriately to prevent your puppy from making mistakes around the house.
Focus your efforts on teaching your house-rules and helping your puppy build confidence and make sense of the world. And, of course, continue developing a healthy, happy relationship with your puppy.
Your homework will focus on time-sensitive puppy priorities and relationship building:
How puppies learn
How to teach your puppy what to do (introduction to marker training)
How to practise sensible puppy socialisation
How to manage your puppy's environment and options to prevent mistakes
How to develop your puppy's confidence and emotional self-regulation
How to develop your puppy's independence and prepare for separation
How to fast-track toilet training success
How to deal with normal puppy nipping and biting
---
Teaching "Come When Called" & Developing Confidence
"I feel safe and confident. I can choose to be calm and quiet."
"Whenever you use my recall cue, I run to you."
"I love to come close and sit in front of you."
"I love it when you grab my collar!"
"I love to play Hide & Seek with you."
Q&A
Teaching "Loose Leash Walking" & Developing Focus
"Show me what to do, and I will follow you."
"Paying attention to you, is the best!"
Loose leash walking and leash handling best practice.
Q&A
"Dealing With Distractions" & Developing Self-Regulation
Can you "Leave it"?
Loose Leash Walking, Walk passed other puppies
Can you "Come" away from play?
Q&A
Teaching "Real Life Skills" & Developing Independence
Can you "Stay"?
Can you disengage from distractions?
Can you notice unfamiliar people and dogs without over-reacting?
Can you leave things that are not meant for you alone?
Can you make sense of most situations now and make good choices on your own?
Can you self-regulate better now and show less fear or frustration in new situations?
Q&A
Not ready to commit to Puppy School yet?
Check out our New Puppy Training Schedule Planner. This workbook template is a handy guide to creating your flexible puppy training day plan. It focuses on the puppy priorities during the first 4 weeks of your new puppy parenting life.